Notepad++
7.4.2
When basic just won't do
How often were you not tempted to start typing HTML code in good ol' Notepad? I know I was. It was much quicker than searching the torrents for a working version of Dreamweaver. But those are the old days. However, there was always something that I could have used legally and for free if only I had known about it. That is Notepad++.
Notepad++ draws its peculiar title both, from the language it was written in (C++), and from its intrinsic quality: It is way better than Notepad. It has been developed and supported since 2003. It is essentially a technical text editor. It is rather useful for when syntax and spacing matters more than font and styling. Actually, font and styling are out of the question (as they also are in regular Notepad).
The text area is bordered left by a line counter. That's rather useful for reference and navigation in large files. You can also open up a document map which show a miniature version of your text and highlights the portion that you're currently viewing in the editor. Also if you click to the right of the line number you will leave a bookmark.
The most interesting aspect though is found in the Language menu; programming language that is. When viewing/writing text in a selected programming language, all of its specific markings will be highlighted accordingly. Not only that, but you are also be able to collapse or expand blocks of code and get auto-complete suggestions. You won't get any debugging options since Notepad++ is still a text editor and not a programming environment.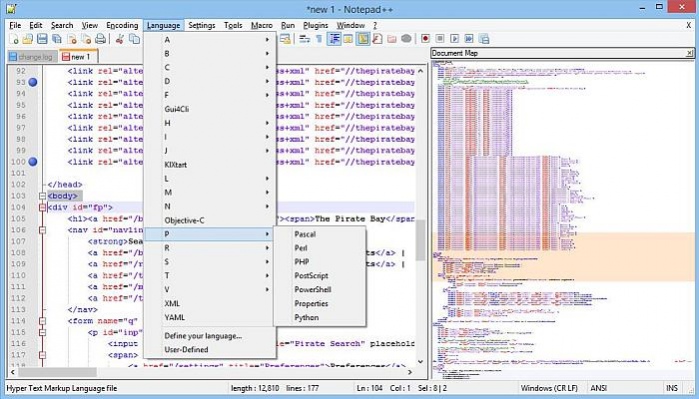 When I was saying that fonts and style were not on the menu, I was lying, sort of. You can adapt the aspect of the text to your liking and you can also zoom in and out at any time using the Ctrl key and mouse scroll.
There are many other useful functions in Notepad++, including split screen and macros, but I'm not one to use such wonders of programming.
Features
Programming syntax highlighting for various languages
User defined highlighting
Tabbed view (including split view)
Bookmarks
Zoom and document map
Macros
Text auto-completion
Autosaving
Final Thoughts
Notepad++ is a handy tool for developers but can also be of great help to others. It handles text in a very strict manner and is infinitely better than using the standard issue Notepad on Windows.
---
Add a review
Tell us your experience with
Notepad++
7.4.2
RELATED PROGRAMS
Our Recommendations
---
---
---
---